TESDA XI awarded ACLC Davao
Written by Joanne Fernando
Congratulations ACLC-Davao!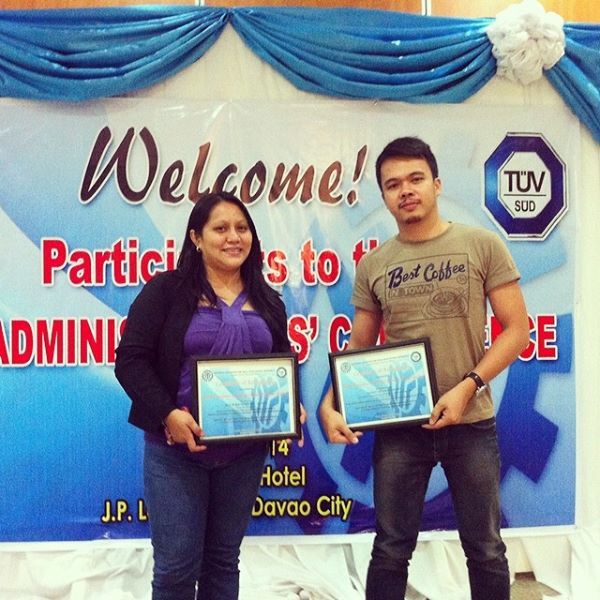 Technical Education Skills Development Authority awarded AMA Computer Learning Center – Davao for generating the Highest Certification Rate in Computer Hardware Servicing NC II among all the schools in Davao City last June 23, 2014 during the Administrator's conference at El Bajada Hotel, J.P. Laurel Ave., Davao City.
Big Thanks to Mr. Mel Andrew S. Sescon and Mr. Manolo F. Estardo Jr. for exerting their efforts in training and sharing their mentoring skills in Computer Hardware Servicing.
Also the ACLC Davao was one of the 7 schools awarded as the Best in MIS Reporting – CY 2013 for the submission of on-time, accurate and orderly MIS reports thereby contributing to an efficient reporting system of the PO's accomplishments.
"But this [I say], He which soweth sparingly shall reap also sparingly; and he which soweth bountifully shall reap also bountifully." 2 Corinthians 9:6
Computer Hardware Servicing NC II Passers
Written by Joanne Fernando
ACLC Davao congratulates the following students who successfully passed the TESDA Assessment for Computer Hardware Servicing NC II.
A word of gratitude to Mr. Manolo F. Estardo, Jr. for rendering your expertise, coaching skills and courteous personality in training the students.
We are proud of your success!
NAME OF STUDENTS
DATE OF ASSESSMENT: September 10, 2013

1. Angoy, Arnold A.

6. Ladica, Jan Michael I.
2. Barriga, Melbhoy

7. Macas, Jomerch C.
3. Curambes, Early James A.

8. Moratin, John Vinnce Mikkel L.
4. Decena, Ariosto T.

9. Orcullo, Albert A.
5. Galolo, Alexis B.

10. Sullan, Dale Jason P.
DATE OF ASSESSMENT: October 3, 2013
1. Estrada, Elfe Maris P.
4. Sison, Marie Fe U.
2. Faustino, Deanne Joy
5. Tan, Jian Christian S.
3. Fernandez, Edward Joseph M.
DATE OF ASSESSMENT: October 4, 2013
1. Buscabos, Donna Mae E.
5. Magno, Jenny Lyn L.
2. Cedeño, Helen A.
6. Mejorada, Iris M.
3. Chua, Juniel Mark A.
7. Uy, Fred Kristofferson S.
4. Flores, Jhanette J.
8. Villagonzalo, Kenneth P.
DATE OF ASSESSMENT: October 22, 2013
1. Bitco, Metch R.
5. Lambac, Benjie M.
2. Claro, Jessie R.
6. Mesajon, Rey Vincent S.
3. Flordelis, Charles Fernan M.
7. Nuñez, Mark Jonnel D.
4. Hazen, Timothy Stephen F.
8. Ramos, Mark James G.
DATE OF ASSESSMENT: November 5, 2013
1. Lim, Keith Ryan L.
3. Pasandalan, Mahed U.
2. Novela, Edgar Allan A.
DATE OF ASSESSMENT: November 29, 2013
1. Adriano, Mary Grace Faith R.
6. Carranza, Jennifer A.
2. Alagaban, Ma. Paulea G.
7. Dumalauron, Joan A.
3. Alinsub, Sheena S.
8. Gildore, Jene Mae Marie H.
4. Barbabrona, Sheilame C.
9. Lingas, Golden C.
5. Bata, Jannafel S.
10. Manciba, April Jane M.
DATE OF ASSESSMENT: February 5, 2014
1. Ceferiano, Emelyn N.
3. Lastimoso, Nellen N.
2. Dee, Melody F.
4. Taga-an, Reallo H.
Written by Joanne Fernando
Last December 3 to 6, 2013, ACLC Davao celebrated their Annual Intramurals with the theme: "Unity and Goodwill through Sports".
The 4-day activity aims to engage students in sports and develop the essence of sportsmanship
The ACLCians were given a chance to break off from all the heftyloads of student life for a while and just enjoying the activity and excel in the different competition categories.
Students were divided into four teams. Avira, Avast, McAfee & Kaspersky, The names of each team was inspired from different anti-virus names.
ACLC Campus was turned into a fair ground during the first day of the Intramurals. Students from different teams were cheering and yelling for their respective teams.
It all started with Indoor activities such as, Computer Games, Mind Games and Table Tennis held at ACLC Activity Area, Followed by a Banner Raising Contest, Cheer-dance Competition together with Team sports composed of Basketball, Volleyball, and Badminton on the second day and third day which was held at Play site, Ma-a Davao City.
And, of course on the fourth day the most anticipated episode of the Intramurals celebration happened at NCCC Mall of Davao Activity Area, the search for MR & MS. ACLC 2013
The afternoon of December 6, 2013, NCCC Mall of Davao Activity Area was brightened up with the parade of hunks and beauties done by 16 gorgeous, good-looking and lovely candidates from different teams.
Apparently, the search for Mr. and Ms. ACLC 2013 wasn't just about beauty, good-looking faces but also, brains.
A Clamorous shout, the crowd went wild as the ACLCians and visitors watched their representatives and bets! However, silence overpowered the crowd as they listen to the candidates' answers.
Oze Oliveros from Team Avira bagged the Mr. ACLC 2013 and Jennifer Cabradilla from Team McAfee outshined the others and was crowned as the Ms. ACLC 2013
Finally, the Awarding of all Winners was announced.
The Grand Total Score, which is the summation of the scores for each category, were as follows: 3,050 points for team Kaspersky, 3,075 point for Avira team, 3,125 for team Avast and beaming 4,000 points for team McAfee.
The winners received certificates, trophies and medals from ACLC Davao.
Kudos to Everyone!
"It's not whether you win or lose, it's how you play the game." ― Grantland Rice
<< Start
< Prev
1
2
3
4
5
6
Next >
End >>
Results 1 - 3 of 16