ACLC Celebrates Acquiantance 2014
Written by Adrian Mendoza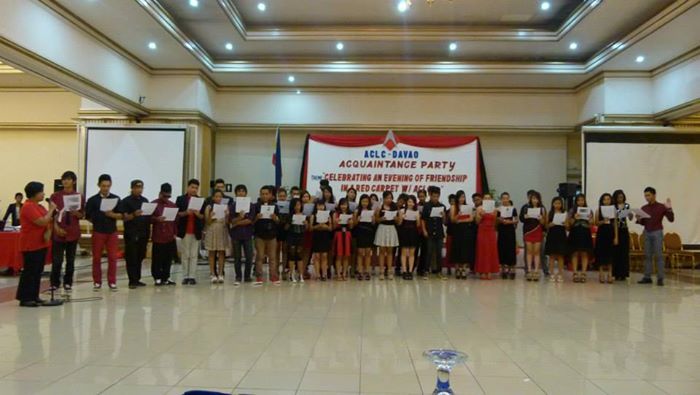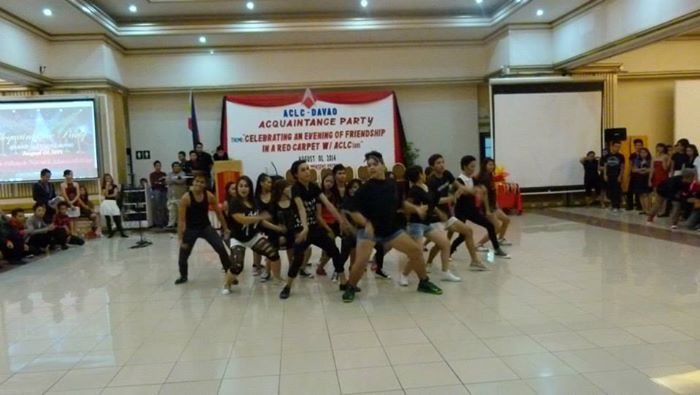 The halls of Davao Grand Men Seng's Grand ballroom were inundated with a sea of pretty and hunky faces clad in black and red as the AMA Computer Learning Center held their annual Acquaintance party there on August 1, 2014. One could feel the anticipation build up for this grand affair as students slowly started showing up in their formal and semi-casual attire dressed in various shades of their team colors, the theme being red and black.
The emcees for the nights' entertainment were Mr. Mel Andrew Sescon and Ms. Liwayway Brabat. The core theme for the night of camaraderie and enjoyment was "Celebrating an Evening of Friendship in a Red Carpet with ACLCians". The student population was divided into 8 teams: the Red Planet, Red Riding Hood, Red Werewolf Hunter, Red Tails, Black Swan, Black Scorpion, Black Forest and Black Panther. The Supreme Student Council, the official administrator of the acquaintance party, pulled no stops in making sure the venue was well decorated with an atmosphere of regality.
The party kicked off with a dance number performed by the Socio-Cultural Club (SCC), and then preceded to an interpretative dance prayer. Students were then introduced to the faculty and staff of ACLC who came out in style, going on to do an amusing dance number to the delight of the students.
The sumptuous dinner soon followed, with accompanying live music sessions by various talented students from the SCC. A humorous contest involving tissue paper was played, with Drex Maurice Reyes winning. A more somber mood alighted as the officers of ACLCs various organizations were inducted into their positions.
Afterwards, the Hip-Hop Dance Contest was started with an introduction of the judges: Mr. AlvinfredHinay, Ms. Mary Jane Dalagan and Ms. Mariefil Tamayo. It was a close fight as each team did their best to outperform the other but in the end only one would win. The winner turned out to be the team Black Panther. Awards were also given to some stunning ladies and gentlemen of the night. John Henry Yap and Sharmyn Niña Cardoza were crowned as Mr. and Ms. Acquaintance 2014, Oze Oliveros for Gwapong Lalaki and Lara Jane Saquin for Gandang Babae, and Adii Khaizar and Jazel Manon-og as Mr. and Ms. Head turner of the night.
The evening then slowly culminated into a sea of flashing cameras, idle chatter and party talk as students and faculty mingled together amidst the sound of music, as a musical rock performance of Canon in D major was played by talented musicians from the school. Indeed this years' Acquaintance Party is a grand start to a memorable year that old and new students of ACLC will never forget.
TESDA XI awarded ACLC Davao
Written by Joanne Fernando
Congratulations ACLC-Davao!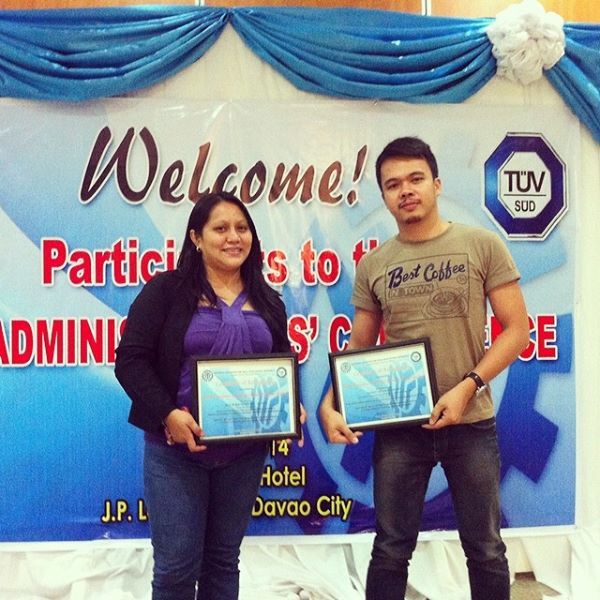 Technical Education Skills Development Authority awarded AMA Computer Learning Center – Davao for generating the Highest Certification Rate in Computer Hardware Servicing NC II among all the schools in Davao City last June 23, 2014 during the Administrator's conference at El Bajada Hotel, J.P. Laurel Ave., Davao City.
Big Thanks to Mr. Mel Andrew S. Sescon and Mr. Manolo F. Estardo Jr. for exerting their efforts in training and sharing their mentoring skills in Computer Hardware Servicing.
Also the ACLC Davao was one of the 7 schools awarded as the Best in MIS Reporting – CY 2013 for the submission of on-time, accurate and orderly MIS reports thereby contributing to an efficient reporting system of the PO's accomplishments.
"But this [I say], He which soweth sparingly shall reap also sparingly; and he which soweth bountifully shall reap also bountifully." 2 Corinthians 9:6
Computer Hardware Servicing NC II Passers
Written by Joanne Fernando
ACLC Davao congratulates the following students who successfully passed the TESDA Assessment for Computer Hardware Servicing NC II.
A word of gratitude to Mr. Manolo F. Estardo, Jr. for rendering your expertise, coaching skills and courteous personality in training the students.
We are proud of your success!
NAME OF STUDENTS
DATE OF ASSESSMENT: September 10, 2013

1. Angoy, Arnold A.

6. Ladica, Jan Michael I.
2. Barriga, Melbhoy

7. Macas, Jomerch C.
3. Curambes, Early James A.

8. Moratin, John Vinnce Mikkel L.
4. Decena, Ariosto T.

9. Orcullo, Albert A.
5. Galolo, Alexis B.

10. Sullan, Dale Jason P.
DATE OF ASSESSMENT: October 3, 2013
1. Estrada, Elfe Maris P.
4. Sison, Marie Fe U.
2. Faustino, Deanne Joy
5. Tan, Jian Christian S.
3. Fernandez, Edward Joseph M.
DATE OF ASSESSMENT: October 4, 2013
1. Buscabos, Donna Mae E.
5. Magno, Jenny Lyn L.
2. Cedeño, Helen A.
6. Mejorada, Iris M.
3. Chua, Juniel Mark A.
7. Uy, Fred Kristofferson S.
4. Flores, Jhanette J.
8. Villagonzalo, Kenneth P.
DATE OF ASSESSMENT: October 22, 2013
1. Bitco, Metch R.
5. Lambac, Benjie M.
2. Claro, Jessie R.
6. Mesajon, Rey Vincent S.
3. Flordelis, Charles Fernan M.
7. Nuñez, Mark Jonnel D.
4. Hazen, Timothy Stephen F.
8. Ramos, Mark James G.
DATE OF ASSESSMENT: November 5, 2013
1. Lim, Keith Ryan L.
3. Pasandalan, Mahed U.
2. Novela, Edgar Allan A.
DATE OF ASSESSMENT: November 29, 2013
1. Adriano, Mary Grace Faith R.
6. Carranza, Jennifer A.
2. Alagaban, Ma. Paulea G.
7. Dumalauron, Joan A.
3. Alinsub, Sheena S.
8. Gildore, Jene Mae Marie H.
4. Barbabrona, Sheilame C.
9. Lingas, Golden C.
5. Bata, Jannafel S.
10. Manciba, April Jane M.
DATE OF ASSESSMENT: February 5, 2014
1. Ceferiano, Emelyn N.
3. Lastimoso, Nellen N.
2. Dee, Melody F.
4. Taga-an, Reallo H.
<< Start
< Prev
1
2
3
4
5
6
Next >
End >>
Results 1 - 3 of 17